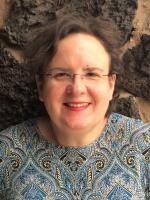 Rosie Klepper
Rosie Klepper is a writer and editor. Her work has appeared in the Chicago Sun-Times, Iowa City Magazine, University of Iowa's Alumni Magazine and the Chicago Tribune.
She has a B.A. in music and French with a minor in English from Elmhurst College and also holds a M.A. in French literature from the University of Iowa.
She is an active member of the Elmhurst Symphony Orchestra, and she relishes the opportunity to play her violin in the mighty second violin section.
A lover of language since birth, she delights in word play, wit and humor. Rosie is addicted to doggerel, and her hero is Ogden Nash.
A persistent knitter, she is in the midst of many half-finished projects. Her beagle, Zoe, is not amused.
What do the great French thinkers have in common with cookies? Ask Rosie Klepper.

Yes, a world of gluten-free products has made life better for many people. But Rosie Klepper thinks the wheatless advertising may have gone a step too far...

You can't always get what you want, especially when your car's in the shop.

Some lessons are tough. Some lessons are sweet. Luckily for Rosie Klepper, her math teacher believed in the sweet kind.

What happens when you run out of the good candy — during a pandemic? Rosie Klepper knows.

Rosie Klepper is tired of waiting.

Perspective author Rosie Klepper learns knitting can be an aerobic activity.