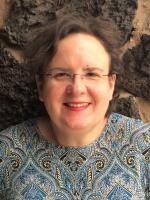 Rosie Klepper
Rosie Klepper is a writer and editor. Her work has appeared in the Chicago Sun-Times, Iowa City Magazine, University of Iowa's Alumni Magazine and the Chicago Tribune.
She has a B.A. in music and French with a minor in English from Elmhurst College and also holds a M.A. in French literature from the University of Iowa.
She is an active member of the Elmhurst Symphony Orchestra, and she relishes the opportunity to play her violin in the mighty second violin section.
A lover of language since birth, she delights in word play, wit and humor. Rosie is addicted to doggerel, and her hero is Ogden Nash.
A persistent knitter, she is in the midst of many half-finished projects. Her beagle, Zoe, is not amused.
It's the Halloween treat you either love or hate. Rosie Knepper? Loves.

Things changed for Rosie Klepper after a shooting at her local mall.

A friend stops by with a gift and next thing you know...sweet potato fries.

The pen is mightier than the sword? Rosie Klepper says that's just too much pressure for the bearer of the pens.

Oh no. Your favorite pizza joint closed down. But if you're as lucky as Rosie Klepper, the dough will rise again.

Rosie Klepper has a thing for bagpipes. So another wheezing pipe of spring gets a pass from her.

DNA tests aren't just for humans any more. Rosie Klepper considers solving a mystery in her own home.

This time of year means one thing to Rosie Klepper — just don't jump the gun on your dream pumpkin.

Shhh. Don't tell anyone, but Rosie Klepper has ants.

What do the great French thinkers have in common with cookies? Ask Rosie Klepper.