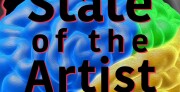 Connie Kuntz interviews artists in the locations that inspire them. Listen to State Of The Artist during Morning Edition on 89.5 and WNIJ.org.State of the Artist is made possible by Raue Center for the Arts00000179-e1ff-d2b2-a3fb-ffffd87e0000
State Of The Artist: You Can't Run Away From Being An Artist
Rockford drummer and dancer Blazey Dickenso is 23 years old. He is originally from Kenya, Africa and has lived in Illinois for three months. Though new to the state, the young man is lovingly connected to the land, the water, and his spiritual community.
I followed Blazey to three locations that inspire him as an artist. We first met at Rockford Baha'i Center. It is a spiritual gathering place for the Baha'i community and it is tucked inside the Highcrest Shopping Centre.
Blazey unlocked the front door and we walked down the dimly lit stairs. My own temperature and mood transitioned from hot and busy to cool and peaceful. When a dark stairwell feels welcoming, you know you are in a special place.
Once downstairs, we entered through glass doors. The center is spacious and well lit. There are drums, microphones and other media sources as well as quiet rooms for meditation, a library, a dining area, comfortable seating for adults, and activity rooms for children. It is neat, organized, and inviting.
We spoke near long tables that artfully display a timeline of the world's major religions. Baha'is feature this visual representation because they believe "all religions emanate from the same source, one God."
Blazey has been practicing the Baha'i faith since he was a teenager in Kenya. I asked the artist what the Rockford Baha'i Center means to him. Blazey's native tongue is Swahili, but spoke in English.
"Oh, this place is like heaven on earth for me! This is the first place I came to when I landed in the United States. When I am here, I always feel like I can forget my problems because I know that I am in a holy place. I love it," he joyfully explained.
Blazey admitted that his adjustment from African life to American life has been tough, but said his spiritual community is very supportive.
"The first days I really wished I could go back because it was so hard for me to adjust. But then I started meeting people in Illinois. I feel like it's a beautiful home and I wish to stay here longer," he said.
Blazey grabbed a drum, locked the doors, and we drove to his second location at Rock Cut State Park. We rented a pedal boat on Pierce Lake and Blazey talked with his hands as he pedaled with his feet:
"Man, I just see beauty! Everything is just awesome! The trees are amazing. The sky is blue. The water, the sound of the boat. Oh my God, everything is awesome!"
Blazey also stated that Pierce Lake and Rock Cut State Park remind him of Nakuru, Kenya, which is one of the places he used to live.
He said, "It looks like this. We have a lake. We have trees. We have beautiful nature and during the summer it really takes my soul back home because this is the kind of weather and things we have back in Kenya."
While we toured the lake, Blazey shared his vision of blending Kenyan culture with Illinois elements into his art.
"I want to put American culture and African culture into a combination. That's my biggest goal. I want to mix both cultures, put them into art and maybe come up with one amazing thing that people have never seen before," he said.
We docked our boat and headed for the forest. Blazey set up his drum and began to play. I noticed he kissed the drum before and after he played. I asked him why.
"I kiss the drum because in my culture in Africa -- mostly Kenya -- we really believe that the drum is a very spiritual thing. It should be treated with respect because it can connect you to your spiritual world. It can make you feel so special. Mostly when you're unhappy or when you're having problems. Just the sound of the drum can change your world," he said.
He respects and loves the drum and Kenya, but as we hiked through the woods, Blazey spoke about the 2007 Kenya civil war.
"I was 11 years old. I was just sleeping. And when I woke up the next day, I just saw huge smokes. Everywhere. And I would see houses were burning. And I was not at home that day. I had slept at my friend's place. And when I went back home, I found that my parents and everybody had run away. So I was by myself. And unluckily, I was kidnapped by the rival tribe. But they didn't kill me. They just give me work for three days, I think because I was young. But I just saw many people being killed, burnt. I saw young kids like me getting killed with their dads. But I was just the lucky one. And I still can't imagine I saw all those kind of things."
He continued.
"I think the war did teach me a very good lesson. Because I was unable to run away from it and I was unable to run away from the past experiences of the war. I had to live it. I had to live the war. And I think that's how I just became strong because you can't run away from your problems."
He connected this to being an artist.
"Being an artist, I know it's a hard thing. Mostly when you're an underground artist. You don't have big connections like performing in big places. Some people, some artists decide to quit. But according to me, with all the experiences I've seen, I feel like I'll keep pushing. I'll keep pushing even if I'm 75 years old because I know that's the life I decided to follow, and I can't run away from it the same way I couldn't run away from the war."
This summer, Blazey volunteered as a choreographer at Rockford Area Arts Council's ArtsPlace where he taught African dance to the apprentices. If you would like to see Blazey's choreography along with the work of Meghan Baylor and Artis Olds, the ArtsPlace Theatre & Dance Performances will be held at the Nordlof Center, 118 N. Main Street in Rockford, on Thursday, Aug. 8 at 3:00 p.m. and Friday, Aug. 9 at 7:00 p.m. Tickets are available at the RAAC office or the day of the performance.