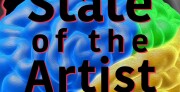 Connie Kuntz interviews artists in the locations that inspire them. Listen to State Of The Artist during Morning Edition on 89.5 and WNIJ.org.State of the Artist is made possible by Raue Center for the Arts00000179-e1ff-d2b2-a3fb-ffffd87e0000
State Of The Artist: Dance To The Beep
Jessica Miller Tomlinson outside Hubbard Street Dance Chicago.
Connie Kuntz
Jessica Miller Tomlinson dances to the sounds of a beeping traffic light in DeKalb.
Connie Kuntz
State Of The Artist features artists in the places that inspire them; the places that put them in a creative state of mind. For Jessica Miller Tomlinson, those places are actions. She preferred to interview when she was in transit because motion is the "place" that inspires her. So Jessica's interview is a reflection of her passion for working or getting to work, or finding ways to improve her work.
Our first meeting took place during our walk from her car to her dance studio in Gabel Hall, which is located on the DeKalb campus of Northern Illinois University.
Jessica doesn't live in DeKalb. She's from Chicago, where she has danced and choreographed professionally for nearly 15 years. She commutes to DeKalb twice a week to teach dance. She talked about how she uses the drive to prep for class:
"Chicago traffic can be quite heavy on the mind and the body. Just sitting for so long is not the best for the body," she said. "So to get myself in a dance state of mind I just try to think of a Zen place, kind of like taking a yoga class. I practice deep breathing and just focus on the task at hand."
As we talked, a nearby traffic light beeped incessantly. Monotonous sound doesn't usually make for good radio, so I suggested we move to a location away from that annoying beep. But the artist interpreted the sound in a different way. She didn't hear an "annoying beep." She heard an inspirational metronome:
"I'm immediately drawn to this metronome and it makes me think of Merce Cunningham who actually recently celebrated his 100th birthday. You know, Cunningham would use a metronome in the studio and it's something that I try to use with my students here at NIU. I actually teach them a lot of Cunningham technique."
She talked about the importance of understanding timing and phrasing without having music. She elaborated:
"In life, we hear all these different sounds -- the sounds around us, the sounds of the city," she said. She talked about how ambient sounds inspire what she and her students do in the studio. I knew it was a strange request, but I asked her if she would feel comfortable dancing to the sounds of the city.
She said, "Sure."
And she did. She looked great; sophisticated and wild as she danced to the sounds of the city, inspired by the legacy of Merce Cunningham. After dancing, we talked a little bit about another person who inspires her.
"My sister Anna is a few years older than me and we were both dancers growing up. She was actually a much stronger ballet dancer than I'll ever be. We were super close and always created works together and, she, to this day, is my biggest role model. I feel that the reason I started dancing is because I wanted to be just like her," said Jessica.
We made our way to Gabel Hall, which is where she teaches Jazz and Modern. She teaches 15 students in her Modern class and 16 students in her Jazz class. She says those are "pretty good numbers" and that her students come from all over.
She said, "I have a lot of Midwesterners, but we also have students from as far out as California and the South."
Jessica is from the South. She grew up in Charlotte, North Carolina, and attended the University of North Carolina School of the Arts. She moved to Chicago after graduating in 2005 and was a dancer with Thodos Dance Chicago for 12 years. She cheerfully referred to that experience as a "good chunk of time." We were almost inside Gabel Hall and Jessica talked about transitioning from busy traffic to a brisk walk with impromptu dancing to finally entering the destination. The moment we walked inside, there was an immediate hush.
"Walking into a studio is like walking into a sanctuary. It's almost like going to church because this is where my life is, where I create. This is my Zen place, my happy place. I feel like it's a sacred place for me, and I feel like it's true of most dancers -- that the studio is a second home."
Dancers and a live percussionist filed in. They set up, stretched out, and warmed up. Alexsandra Rockman was one of the first students to arrive and I had a chance to ask her about her teacher.
Alexsandra was clear: "Jessica is very supportive of everyone and likes to have each person find their own way of moving, which I find very helpful because I don't move like everyone else. It's neat for me to be able to, in her class, explore the different ways of movement that I can use."
I observed Jessica's class. Young men and women were dancing together to live percussion under the direction of a teacher who understands creativity, technique, and individuality. It was hard to leave, but I knew I'd catch up with her in a couple days at her second location, the lobby of Hubbard Street Dance Chicago, located in the West Loop.
The lobby is a hub of activity. Dancers, administrators, parents, kids, teachers, interns, choreographers, designers, managers, and directors frequently (and gracefully) enter and exit the lobby. It's a fascinating place. So many people were coming and going. It reminded me of a small but busy airport. I think the bustling lobby is a marvelous reflection of Jessica's mind. It was barely noon and we talked about how her day was going.
She said, "It's been busy so far. I woke up. First thing, I went to the gym, took a 'yoga sculpt' class this morning, got myself revved, then I went and taught a company class for Cerqua Rivera Dance Theatre. I'm the ballet mistress for the company. After this interview, I'm going to go update my passport for an upcoming dance trip."
Jessica has extensive traveling experience. Many people travel for pleasure, but the bulk of her travels are for dance. Paying attention to different cultures inspires and informs her work as a ballet mistress, a teacher, a choreographer, and dancer. I asked her if she had a favorite role in the dance realm.
"Choreographer because of the creative outlet," she said.
Jessica spoke about how she incorporates the elements of her life into her choreography. She said she is inspired by the city of Chicago, the daily atmosphere at Hubbard Street and NIU, and her personal life events.
She said, "I am, in my career right now, transitioning from being a professional dancer with Thodos to wanting to focus on my own work, my own voice. Voicing my own opinions in dance, and how my life and the atmosphere around me affects that."
Though Jessica is in a constant state of motion, she is remarkably easy going and quick with a smile. I asked her how she achieves that.
"The days that I'm here at Hubbard I tend to come and take class at the Lou Conte Studio in the mornings. That's my time, my relaxation time. Then I come in and teach in the evenings. I'm here all days on Saturdays teaching and choreographing. I'm not taking class, but it's a pretty relaxed vibe. I enjoy what I do so it doesn't feel like work."
Her passion is palpable. She enjoys dancing and has since she was a little girl living in the South. And whether she was dancing in the kitchen with her sister, or studying dance, or dancing professionally, or teaching a class, or taking a class -- or dancing to the beeping of a traffic light -- she has always loved to dance.
Jessica said, "I never really take a break. I'm always here, I'm always taking a class, I'm always at the gym, or I'm teaching somewhere else for someone else, and when I have time off, I'd rather be in the studio."
I asked her why.
"This is how I can communicate to the world. I have to dance."