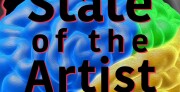 Connie Kuntz interviews artists in the locations that inspire them. Listen to State Of The Artist during Morning Edition on 89.5 and WNIJ.org.State of the Artist is made possible by Raue Center for the Arts00000179-e1ff-d2b2-a3fb-ffffd87e0000
State Of The Artist: A River Runs Through Her
Caitlyn Baylor is the newest executive director for Rockford Area Arts Council. She is also a dancer who specializes in site specific choreography with her identical twin sister, Meghan Baylor. Most hours of the week, the dancer is serving RAAC's mission which is, "Support, promote, and develop the arts for everyone in Winnebago, DeKalb, Boone, and Ogle counties." On a misty day in April, she took me to the places that inspired her creativity early on -- schools.
The first stop on our "education crawl" was outside Martin Luther King Jr. Elementary School in southwest Rockford. Caitlyn says she loved all of her schooling, but King is very special to her.
She attended King until fifth grade. The school is now closed. In the parking lot, there are dumpsters filled with old desks, chairs, and cabinetry. Though the school is shuttered, King left an indelible impression on the artist.
"The whole school culture influenced me a lot," she said. "The message of Dr. King was really integrated into the school curriculum. Civil rights was a huge focus of the school curriculum." Caitlyn said the biggest holiday of the year was King's birthday:
"We'd all gather together in the gym in the elementary school and sing songs and dance. 90% of the songs we sang were about civil rights and Dr. Martin Luther King."
She emphasized that they honored Dr. King every day, not just on his birthday.
She said, "Every morning we started the day with the 'Peacemaker Pledge.'" The last line of the pledge is, "We follow Dr. Martin Luther King's lead, as one school family, dedicated to helping one another grow in peace."
She said the pledge included ways the school wanted the elementary kids to behave, but added, "They are ways I think we should all behave as adults as well."
She talked about how her memories of elementary school inspire and inform her on a daily basis. She refers that time as the "birth of Rockford" for her.
"I clearly remember these flashcard images from the bus ride to King every day. They were the images that would start to become what Rockford was and is to me. The trip to King was like the beginning of discovering the city that was wrapped around me -- the city that I would come to love so much," she said.
She spoke about her experience with the school's arts programs.
"We had programs where artists would come and teach us over recess. I remember doing dance and theater and the elementary school choir. They were, and are, the types of programs the Arts Council funds through Access grants and Action grants," she said. "It's important for me to realize how significant those types of programs and projects were in my life growing up in Rockford because I really see the value in them. I know that those are impactful projects and programs in kids' lives."
That was Caitlyn's elementary school. Our next stop was her high school, Auburn, where she was a student of the CAPA program. CAPA is an acronym for Creative And Performing Arts.
"I think that CAPA is really the experience that started to shape my identity as an artist. Mrs. Alberts was the instructor and I think she really demanded all of us to use art to ask, 'For whom am I responsible?'"
She said dance does this innately because you have to be aware of your other dancers. "You're responsible for them, with weight-bearing and lifting, and making sure your pathway isn't crossing in the wrong pathway and causing an injury," she said. Caitlyn credits the CAPA program for bringing the concept of responsibility out to a more conscious level. She shared a memory:
"We were getting ready for a show and rehearsing in small groups. I was always a shy student. I thought if I just minded my own business and made sure that I knew the steps that it would be okay not to get involved with those around me. I remember the teacher called me into her office and said, 'It doesn't matter if you know the choreography if the people around you don't know the choreography. It doesn't matter if you feel like you've got it if the people around don't feel like they've got it.'"
Caitlyn referred to that moment as "The Command" and emphasized, "As artists, we are always responsible."
As for her new role as executive director, she said, "In a sense I feel like I'm being called back into that office, as a sophomore, and this voice is saying, 'It doesn't matter how beneficial the arts community is to you if it's not beneficial and effective for everyone.'"
Caitlyn graduated from Auburn eleven years ago. After that, she earned a bachelor's degree in English from Grinnell College. Our next stop was a different kind of school, the Rock River, just outside the Nicholas Conservatory.
She was frank: "When I was leaving for college, I think the river represented the things that I hated about Rockford. And I think it does for a lot of people. You hear people talk about how 'This is a place split in two by the river' and it kind of is this symbolic manifestation of the geographic, racial, socioeconomic divide in Rockford." She admitted, "I really held that against the river."
But things changed during her summers between college. She returned to Rockford and worked on the now defunct Forest City Queen, which was a riverboat that provided daily tours of the Rock.
"I came to know the river so intimately -- the smell of the river and the way it captured light, and the way it behaved in the wind. And then there was this really human element to where I heard so many stories from people who have lived in this city for the better part of a century. And from the older men who fished the river and the river lore about 'catfish the size of grown men down by the dam.' I just came to fall in love with the river and, you know, came to kind of forgive it its trespasses," she said.
The Rock River Recreation Path runs alongside the Rock River for ten miles and Caitlyn refers to the path as a symbol of the city's unity. She said, "It's always so diverse. It's a space that everybody uses and it's a place where people are happy seeing geese on their eggs and seeing the river at sunset. It's just a place of community joy."
Caitlyn visits the path weekly because, "Being here at the river, kind of where the city is split in two -- in a sense, but also unified by the recreation path -- is a reminder that we are one community." She spoke to how she is committed to affirming that unity through the arts.
We made one last stop, her office at Rockford Area Arts Council on E. State Street in Rockford. This is where she reflects daily on her education. It's worth noting that, like many schoolrooms, the office has a blackboard.
Caitlyn is a serious and joyful artist and had one last thing to say:
"I am now the steward of a mission that has been stewarded very well. I want to continue to steward it to the highest care and ensure that the Arts Council is living the mission of arts for everyone."