00000179-e1ff-d2b2-a3fb-ffffd7950001WNIJ's Friday Forum features in-depth interviews with state officials, community leaders, and others whose decisions influence your life. You can hear it every Friday during Morning Edition on 89.5 FM and WNIJ.org.
How Decisions At The Grocery Store Could Help Improve Soil Conditions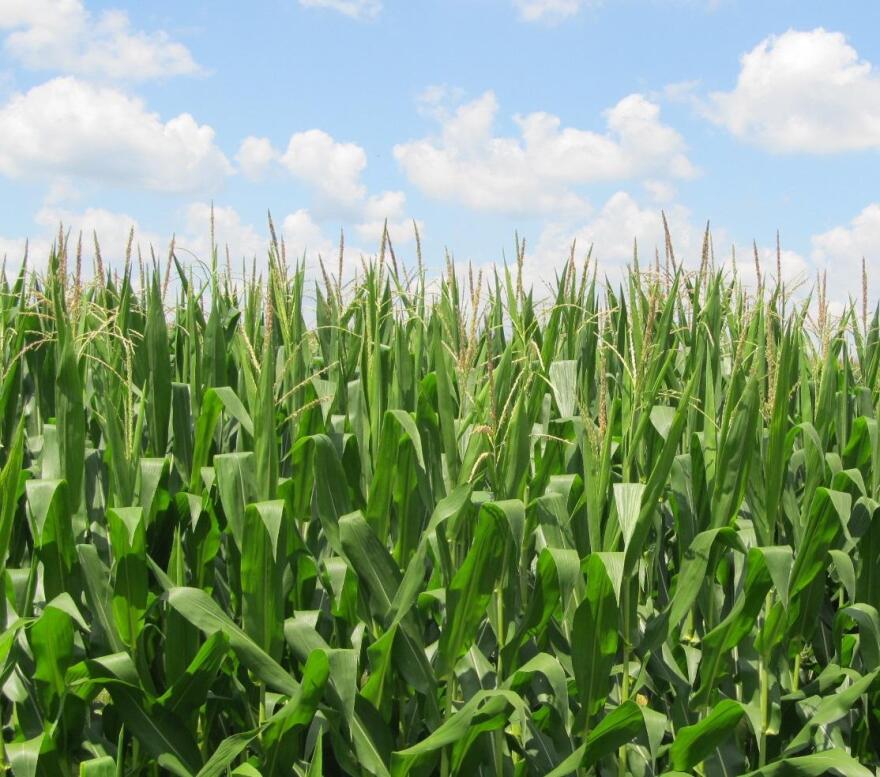 Shabbona native and agronomist Sarah Carlson says decisions at the grocery store could lead to changes in what farmers plant. On this week's Friday Forum, Carlson talks with WNIJ's Jenna Dooley about her unique role working with farmers and large businesses to find ways to grow and market foods that enrich the land.
Carlson came back to her home turf this month to talk to members of the DeKalb County Farm Bureau. Carlson is strategic initiatives director with Practical Farmers of Iowa. The Iowa Secretary of Agriculture recently presented Carlson with an innovation and Agriculture Leader award.
She says there are many things consumers should know about soil health.
She explains that soil is like a sponge and its ability to soak, hold, and filter water will lead to less flash flooding in the future. There are other benefits.
"The cleaner the water will be that ends up at our drinking water facilities that has to be cleaned, so that's less cost to the consumer," Carlson said. "Farmers who have soil that's more sponge-like can withstand summer droughts better and have crops that make it through the summer better when we have less rain because those roots are still getting to soil moisture that was there in the spring time."
She says the millennial generation is increasingly interested in making healthier and more sustainable choices at the grocery story. But she says it doesn't just have to be younger Americans who buy this way.
"We see in the marketplace today a number of larger food and beverage companies making goals towards improving soil all the way back to the farm gate in their supply chains," Carlson said. "So that may be how corn is grown, how soybeans are grown, how pigs and chickens and cows are grown, how dairy animals are grown. And so these larger companies are trying to make claims and trying to improve soil health so that in the future their supply is not disrupted."
Carlson says she works with a number of companies that are putting their money where their mouth is and offering cost-sharing for farmers who want to add cover crops. "Over time, the companies share in the learning curve that the farmer has to bear when they try a new practice," Carlson said.
Carlson says some of these practices could be confusing in the grocery aisle.
"There's definitely a lot of label overload. And I'd say the companies that I see making the biggest impacts haven't necessarily pushed towards a change in a label," Carlson said. "Hopefully they're doing it in earnest where they're actually working towards sustainable soybeans, and sustainable corn, and cage-free eggs. And so those would be the products to look for."
Carlson says her group receives phone calls from farmers who are making changes on their farm and they want to try something new.
"We find them another farmer in our network who has already done that practice," Carlson said. "The goal is to get those farmers to talk to other farmers as much as possible. And then we can say to the companies, 'Hey, support this activity. These farmers are curious, they want to try these new things that save them money and happen to improve soil health. Why don't you co-invest in that because then you can sustain your supply and you can, you know, make the claims that you're helping to reduce the impact of climate change on the globe?'"
She says many of the techniques to improve soil health are not necessarily new. That includes extended crop rotation. Carlson says Illinois, Iowa, and Indiana have gone to a system where farmers focus on growing corn and soybeans.
"The other part of the year we used to grow things like alfalfa and red clover, and oats, and wheat, and things called small grains, and legumes," Carlson said. "As markets have left the Midwest, farmers have stopped growing those crops."
She says farmers would like to grow those crops because it improves corn and soybean yields, breaks pest cycles, reduces their need for lots of purchased fertilizer, and it reduces the need to spray fungicides.
"It really is good, but they have no place to sell those products," Carlson said. "So, we would help farmers think about, 'How can we work cover crops into that system? How can we find markets for small grains again? How can we work with big food and beverage companies to realize that if they really want to have an impact, they need to start bringing markets back home?'"
Carlson says the issue is important in northern Illinois because it contains some of the best soils in the world with high productive capacity.
"I think back on my upbringing--to whom much is given much is, sort of, required. So if we're given these really good soils, we need to take care of them, so that they take care of us and others." Carlson said.