'Black Hawk' Restoration Waits On Funding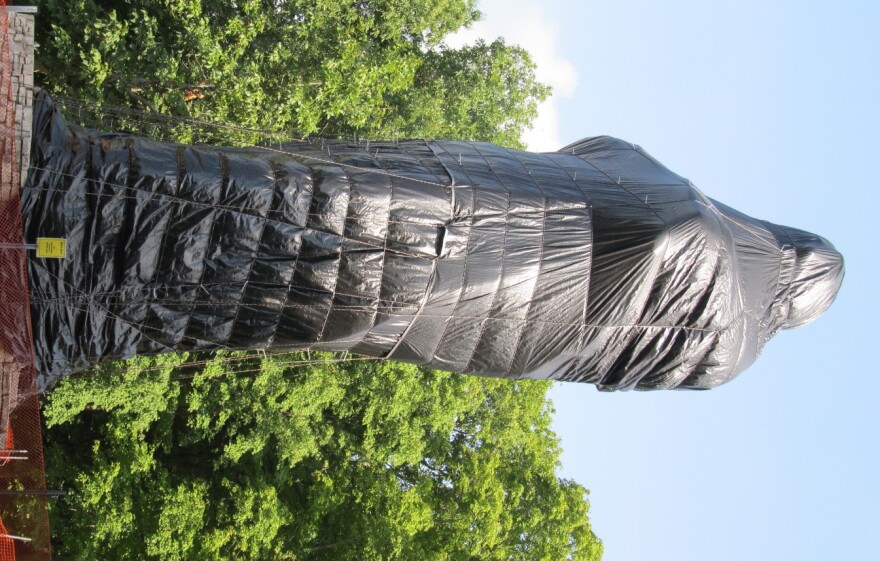 A northern Illinois legislator said efforts to restore an iconic statue near Oregon continue, but slowly, and completion is still up in the air.
State Rep. Tom Demmer, R-Dixon, said he has made it a priority to stay in contact with the Illinois Department of Natural Resources regarding restoration of the monumental Lorado Taft statue known to many as "Black Hawk." Taft himself referred to it as "The Eternal Indian".
More than a hundred years of exposure, neglect and botched previous attempts to repair the statue have left it disfigured, cracked and crumbling.
Demmer said he has been told by the department that it is working to get a new conservator, hired after the previous one quit, up to speed with the engineers on the project.
Demmer said he asked why that was taking so long, but hadn't yet received an answer. The department did say it had received, and was reviewing, plans based on a study by the engineering firm that has been working on the restoration.
The main holdup now, Demmer said, is what the source of funding will be. A $350,000 grant for the project was issued several years ago by the Illinois Department of Natural Resources. The grant was first put on hold by the governor then disappeared along with other funding during the state budget impasse.
Unfortunately, Demmer said, neither the grant, nor any other funding specific to the project, was included in the budget passed in July. That means finding another way to pay for the restoration.
"So, I'm continuing to work with the Department of Natural Resources and working to schedule a meeting with the Illinois Historic Preservation Agency," Demmer said. "I think we're going to have to think outside the box and see if there are alternative sources of funding available."
Demmer said the Department told him it will continue to work with the conservator and engineers on next steps, such as establishing the correct cement mix to use for repairs, as its budget allows. He added the statue is one of the most remarkable historical artifacts in the area, and its restoration is a priority.
Private fundraising efforts raised nearly $700,000 toward the statue's restoration, but most of that was spent on studies and preparatory work. The state grant was going to help cover the remaining costs of the project, including the actual restoration.
If funding can be found, the years-long effort to restore the statue may finally come to pass.