00000179-e1ff-d2b2-a3fb-ffffd7950001WNIJ's Friday Forum features in-depth interviews with state officials, community leaders, and others whose decisions influence your life. You can hear it every Friday during Morning Edition on 89.5 FM and WNIJ.org.
Reducing Illinois Prison Population Requires Effort, Training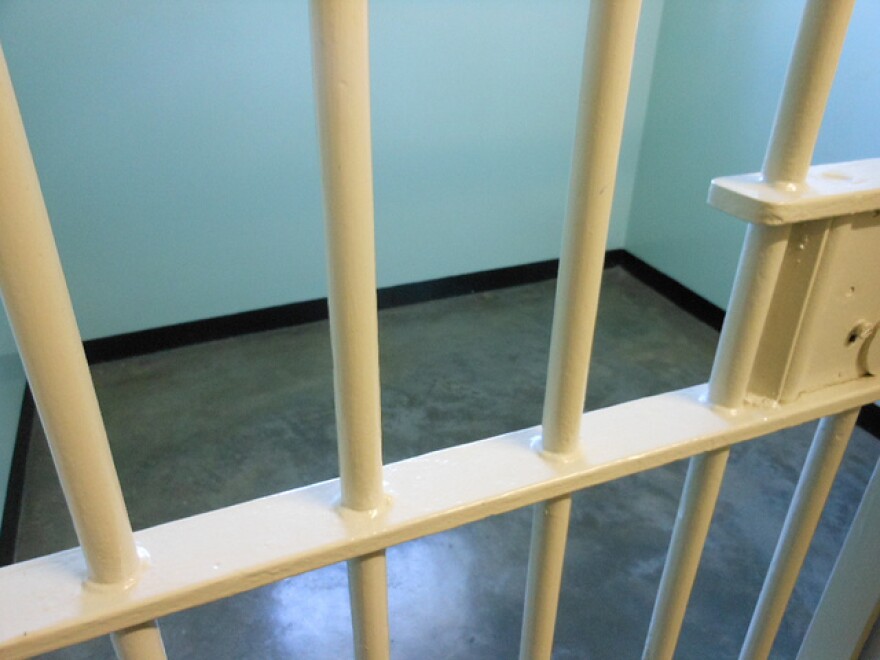 It's been nearly two years since Illinois Gov. Bruce Rauner formed the State Commission on Criminal Justice and Sentencing Reform to resolve prison over-population in Illinois. Rauner calls the plan "25 by 2025" – which aims to reduce prison populations by a quarter by the year 2025. On this week's Friday Forum, WNIJ's Jessie Schlacks looks into northern Illinois efforts working toward this goal.
State Rep. John Cabello, R-Machesney Park, has nearly two decades of experience with the Rockford Police Department. He was appointed as one of 28 members from diverse backgrounds of the state's Criminal Justice and Sentencing Reform Commission.
He says the group had some disagreements but came to a consensus in many areas. For example, Cabello says, incarceration is costly.
"For a low-level offender to be in prison," he said, "it costs $22,000 a year to the taxpayers to have in a correctional facility."
The commission stressed reducing sentences for minor drug offenses, Cabello says, and they also pushed the need for more transitional services.
"It's not working that we're sending people to prison, but then just warehousing them, and not giving or offering any type of educational programs," he explained. "Because if we don't give them the tools while they're in prison, when they get back out, more than likely they're going to go back to re-offending."
Around the state, people are working to change the current reality of life in prison.
At Northern Illinois University, about 20 professional and aspiring counselors, correctional officers, and former inmates are discussing their thoughts and experiences of how to keep people out of jail.
Amanda Stone, a doctoral student in Counselor Education at Northern Illinois University, is a part of the conversation. She has years of experience under her belt working as a substance abuse and addictions counselor at the Winnebago County Jail and the Sheridan Correctional Facility in LaSalle County.
She says a large number of the Sheridan inmates were affiliated with a gang.
"A lot of times they would get busted selling drugs," Stone said, "and then the other part was, if they were an addict and they started using out on the streets or whatever, then they would steal; they would break and enter; they would rob, gunpoint or not. Those are still pretty heavy crimes that will get you put in prison for quite a while."
Stone says that, when these prisoners get paroled, often they would re-offend. She calls it a "revolving door."
"And, so when you get out of prison, you've been away for two years, you haven't been contributing to your family," she explained, "you haven't been taking care of your kids, and they're struggling. And you come home, and you sit on the couch because you can't do anything."
She says that prisons must provide more vocational training.
"The best hope people have when they're in prison or in jail are these types of groups," Stone said, "the things that teach them social skills, communication skills, anger management, how to be a better parent."
Stone says she's had the most success in curbing criminal behavior simply through genuine listening.
"I've had grown men come in and cry to me," she said. "They were so happy I was able to get through to them somewhat. I just was myself."
Empathy is among numerous skills Stone tries to foster in NIU students wanting to get into the field -- and some who already are. She co-teaches a new course in the NIU College of Education. It's called "Juvenile Justice: Education, Preventions, Interventions and Counseling Strategies." Its aim is to reduce recidivism and keep youths out of the system.
Dr. Teresa Fisher is a Professor of Counseling in the Department of Counseling, Adult and Higher Education. She says she conceived the course after realizing the need to take a more humanistic approach to intervention.
"You wouldn't know, if you saw them on the street, they would have been in trouble because, often, they just need a different chance, or different direction, or a different type of support," she said, "because they have so much potential."
Fisher says some youth look down on themselves because of their environment.
"You're nothing; you're a loser," she said. "They're hearing so much negative stuff that they don't even know how to begin about, 'Okay. Let me think about some inner strengths I have that can help me enhance my direction and my focus.'"
For guidance, Fisher says people need some kind of "significant other" – someone who can raise awareness:
"Like asking you, 'Is that a good decision? Did you think about that? Maybe you should go in this direction. These are the consequences for each of your choices.'"
Fisher says schools should scale back on using law enforcement for punishment.
"Fighting, or someone talks back to a teacher, or different things like that -- instead of detention, [they say] to the police officer, 'Oh hey, come over. Take care of this,'" she said. "As soon as you do that, that record – the paperwork -- starts."
She says this creates the "school-to-prison pipeline." Instead, Fisher stresses getting to the root causes.
"Why was that student late every day? Why were they missing so many classes?" she asked. "And then they get to see what's happening at home. There may be no one to get them up, no one to help them with breakfast, or no one to provide them with that structure."
For those who do get caught in the system on first offenses, Fisher points to the idea of "restorative justice."
"Instead of giving them prison time, perhaps have an opportunity to get a better understanding how their behavior impacted someone else," she explained.
It would require the youth to admit their guilt but, she says, hearing implications of the crime first hand can help curb future offenses.
Finding alternative and creative solutions to juvenile justice is a centerpiece in Fisher's class.
Students like Candy Morales, who hopes to work in youth probation one day, says it's important to assess the system.
"There's always that need of questioning how to do things or questioning whether something is working or not," she said, adding that the class is beneficial in how it draws on a variety of insights.
"Usually in a classroom, you only have that teacher perspective that has been studying and doing research in a certain topic," Morales said, "but, in this course, we actually have different speakers and different co-instructors that actually have been able to work in the field."
As the semester was winding down at NIU, Illinois lawmakers got their wheels spinning in the fall legislative session.
Once the final report from the Commission on Criminal Justice and Sentencing Reform was submitted last December, the power of implementation went into the hands of the General Assembly. Some measures got the green light, like Senate Bill 2872.
It aims to give judges more discretion to dole out appropriate punishment -- like parole instead of prison. It's also geared to encourage inmates to embrace rehabilitative programs.
Overall, data shows a downward trend in state prison populations so far. The number of Illinois inmates has dropped more than eight percent since fiscal year 2014. That's according to the Department of Corrections.
But Cabello says more work needs to be done to fulfill the "25 by 2025" goal. He says the commission's work still feels unfinished.
"I don't think it was done," he said. "We can talk about the opioid problem. There's a lot we can talk about."
Cabello says he would reinstate the commission right now. But that decision is up to Governor Rauner.