00000179-e1ff-d2b2-a3fb-ffffd8410000Contributing reporter Dan Libman and WNIJ's Carl Nelson are the first to ride their bicycles along the entire Rock River Trail -- 320 miles from Fond du Lac County, Wisconsin, to the Mississippi River at Rock Island, Illinois.Others have motorbiked the trail, and paddled it, but nobody received the Rock River Trail Initiative's 320-Mile Award for pedaling it... until now.Libman and Nelson shared the experience through five multi-media reports which you can find below in our archive. You also can explore WNIJ's other coverage of Rock River news.Enjoy -- And make it your goal to ride the entire trail this summer!00000179-e1ff-d2b2-a3fb-ffffd8420000
'Black Hawk' To Gaze Over The Rock River Once Again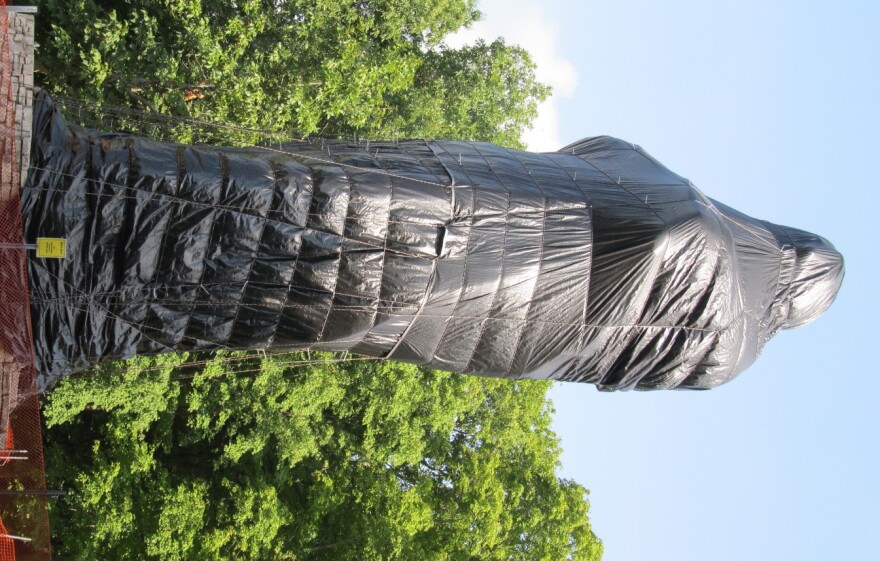 The monumental statue known as "Black Hawk" will once again gaze over the Rock River near Oregon, Illinois – at least for the summer.
The Illinois Department of Natural Resources swaddled the crumbling statue in heavy black plastic in 2016 to protect it from the elements. That replaced scaffolding and green mesh covering it the two years before that.
Ed Cross of the IDNR said the department now plans to uncover Lorado Taft's creation to highlight a local campaign raising funds to restore it.
"We are going to wait until May at some point," he said, "just so that the weather can stabilize, you know, so there's no more snow or freezing conditions to where it may cause further damage to the statue."
Cross said word that the covering was coming off has already spurred renewed interest in the project, estimated to cost around half a million dollars.
"We've already had three donors come forward to the Illinois Conservation Foundation," he said. "So we're hoping, once the cover does come off and more people see it, more contributions will be coming in."
The IDNR has a restoration plan. Cross says it will cost an estimated $500,000 to carry it out. A lack of state funding means much of that will have to come from private donors.
Cross says the statue would be covered up again sometime in the fall.