Stories Of Generosity
Over the past several months, we have been hosting listening sessions around the WNIJ area with the help of the DeKalb County Community Foundation. The prompt was simple. We asked each person to explain why they think generosity is important or share a time when someone was generous to them. Here's what they said:
Barbara Grulke: "A smile is a generosity"
Sally Stevens: "Generosity is more than financial"
Barry Schrader: "Help during recovery"
Jasmine Jackson: "Something you want to do"
DiAnne Schmitt: "Volunteering during the war"
Robert Dobberstein: "Secret gift"
Kay Louis: "Sisterly love"
Keetjie Ramo: "The opposite of generosity is dreadful to think about"
1008GenME.mp3
Stories of Generosity - Part 2
Annette Johns: "Grandma fed the poor"
Anita Zurbrugg: "Parents set great example"
Julie Ann O'Connell: "Buy one, get one to give"
Ryan Bromberek: "No community is in a vacuum"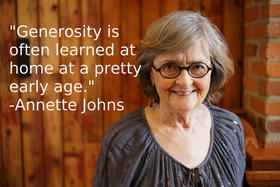 Carol Hajic: "For those who have enough"
John Rey: "Kindness with adoption"
Sheryl Sites: "Help during cancer"
1009GenME.mp3
Stories of Generosity - Part 3
Tom Tsao: "A simple rose"
Marquita Porter: "You never know what someone is going through"
Julie Eggleston: "Be generous with your time, too"
Lynette Spencer: "Children are generous"
Bill Cummings: "Carrying on the legacy"
1010GenME.mp3
Stories of Generosity - Part 4
Tarryn Thaden: "Generosity is a beautiful two-way street"
Danielle Hoske: "We can all be philanthropists"
Jynisha Elam: "The more I get, the more I give away"
Theresa Moris: "Everyone wants to be productive and do something"
Monique King: "A chance to be positive"
Mike Botts: "You find what you search for"
Patti Webber: "If you complain, you must not know"
Monique King: "It gives people a chance to be positive"
Alyce Kuras: "It's the little things"
Sallie Craig: "Gift of a kidney"
James Sheridan: "Be generous with feelings"
Project assistance provided by: Claire Buchanan, Darius Dauzvardis, Jenna Dooley, Peter Medlin, Carl Nelson, Susan Stephens, and Spencer Tritt