Winnebago Community Market Is Elevating The Food Pantry Experience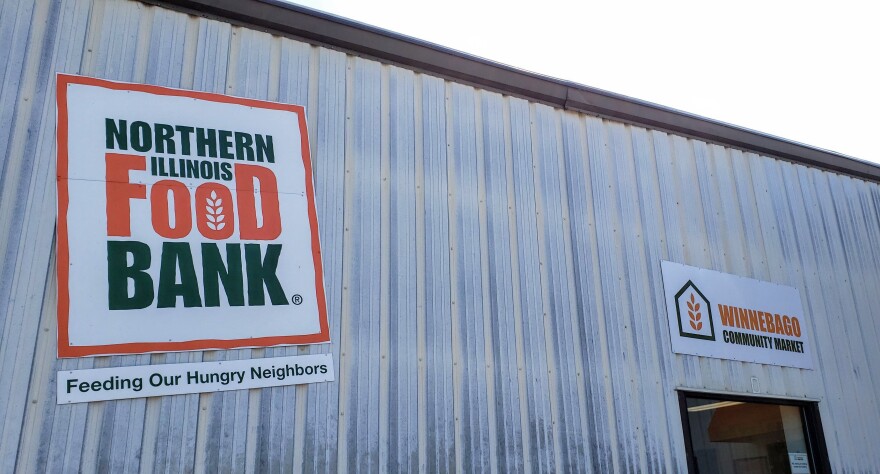 A food pantry in Rockford is bringing a new attitude to the business of feeding people. The Winnebago Community Market held an open house Wednesday afternoon to show off their revamped space and reveal plans to expand services.
The market is one of 900 sites served by the Northern Illinois Food Bank and is one of the big sorting hubs for food donations. But the emphasis now goes beyond prepping food and handing it out to people who need it. It's an experience, an access point for services, a community.
It's also not what you think of when you hear the phrase "food pantry." That's why it's called a "community market." It's set up to feel like a trip to your neighborhood grocery store. Customers push carts through neatly stocked aisles of fresh produce, meat freezers and dairy cases. The big difference is there's no cash register. Instead, there's a large scale where people weigh their carts. That's how the food bank has learned the average shopper walks out with 70 pounds of food. That should be 58 meals, enough for a full week for a small family. Last fiscal year, the Winnebago Community Market distributed the equivalent of 1.2 million meals. But they want to do more.
Winnebago Community Market is essentially a warehouse in a business park near the Chicago-Rockford International Airport. It started out as a twice-monthly food pantry for Winnebago County seniors two and a half years ago. But the need in the community was bigger than that. Thirteen percent of people living in Winnebago County are food insecure – meaning their access to enough food to live a healthy life is uncertain. And 18% of the county's children are food insecure.
Stop by the market any Thursday or Saturday and be prepared to wait in line. 500 households pass through the market every week. But there's room to grow. Their goal is to be open five days a week, according to Liz Gartman, communications director for the Northern Illinois Food Bank. And that means they're going to need a lot more volunteers: 10 to 20 to stock shelves and another 20 to 25 to handle a wide variety of tasks on distribution days.
Margie is one of the many volunteers needed to pull off a huge operation like this. She and her neighbor stock shelves – for fun.
"It's a nice place to be," she said after a recent volunteer shift. She asked that her last name not be used. "It's family, you get good exercise. That's why we come here. And we're here to help them because they helped us when we needed help. So that's why we come here, because we want to give back to the community like they gave to us."
Liz Gartman says another one of the big challenges is trying to change perceptions, considering the stigma associated with using a food pantry.
"But we want to take all of that away, you know, just normalizing it and making it feel like I am at the grocery store. I'm not at a pantry," she said. "And this is welcome here. This is normal. And you know, this is not anything to be, you know, ashamed about or embarrassed by. And just making everyone feel like you're here, you're family."
She pointed out a spike in business early this year when federal workers were furloughed. People missed a couple paychecks and that was enough to make them "food insecure." They've also been visited by out-of-state truck drivers who found themselves in need while passing through the area.
It's stories like those that inspire Carl Adrignola to keep coming back as a volunteer. "The old saying, except for the grace of God go I, you could be in that position too," Adrignola said, while his fellow volunteer and friend Jay English nodded. "So when you come here, the purpose is not to make you feel bad, not to express any negative feelings. We are here to make you feel welcome, that you're here, you're still a part of society, and that society will give back to you."
The Winnebago Community Market's is located at 765 Research Parkway in Rockford.